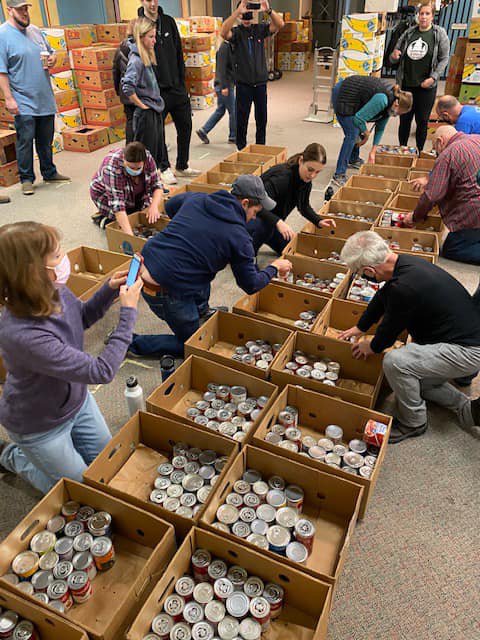 So what is a Deacon?
The Deacons service to the congregation includes: providing the supplies and schedule all of the groups within the church for Coffee Hour following the Sunday worship service; purchasing supplies and set up and clean up of Communion; funeral luncheons.
Care Notes, which cover a variety of topics including issues revolving around loss, illness, coping, and depression, and are available for the use of our congregation.
Care Cards/Deacon Huddle, cards that remind recipients that their church cares about them; maintain contact with VIPs (a list of "Very Important Presbyterians" who are no longer able to attend services due to their age or health) through cards, visits, or phone calls; prayer shawls given to ill church members; and Sunday Suppers, meals prepared for people in the congregation who, for whatever reason, need a good meal.
The Deacons service to the community includes: blood drives; food baskets four times a year for needy families; supporting Fort Street Presbyterian Church, a program that serves the needy and homeless in Detroit; "Spring Into Giving" mission project; and the "Giving Tree" during the Christmas season where donations are collected for local charities and families in need.
Food Drive Information
Food Drop Off Dates and Times
Anytime you can drop food off in the blue bin, outside the back entrance of our church. Please be sure to place the brick back on top of the box. If the building is open, you can leave donations in the office.
Food Items Needed
Peanut butter and jelly
Pasta and spaghetti sauce
Soup and broths
Baked beans, yams.
Mac and cheese
Dried potato mix, dried rice mix, canned tuna and chicken.
Brownie and cake mix, jello, cereal, and pancake or waffle mix.
Spray olive oils, and butters
Granola
Spices
Canned goods
When possible we would like contributed items in plastic jars instead of glass so they can also be used in our Community Cupboard.